NOW SAVE 50%
WITH ANNUAL PLANS
Monthly
Annual (Save 50%)
Discounted
Individuals, nonprofits and
government organizations
Save 50% with an annual plan

4 built-in digital voices

All characters and clothing

NO Plotagon Watermark
Business
Corporations, companies
and other for-profit entities
Save 50% with an annual plan

4 built-in digital voices

All characters and clothing

NO Plotagon Watermark
Academic
Faculty, staff and students
with an academic email
Save 50% with an annual plan

4 built-in digital voices

All characters and clothing

NO Plotagon Watermark

Sign up with your school or university email address to qualify. Learn More
Start today risk-free. Cancel at any time. (All cancelations will go into effect at the end of the current billing period.) European Union customers are subject to additional Value Added Tax (VAT). All prices are in United States Dollars unless otherwise noted.
For more information, consult our Frequently Asked Questions (FAQ) page.
Get Plotagon Studio Today
Includes a 7-day free trial
ENTERPRISE & TEAM ACCOUNTS​
Adding team members is a snap. Invite your colleagues through our admin portal and let Plotagon take care of the rest. You have full control and flexibility over your user licenses. If you are on an annual plan, we can even prorate the charges to keep everyone on the same renewal schedule.
Enterprise & Volume Licenses
If you would like to purchase an enterprise or volume license for your organization, please contact us and describe your organization needs and number of seats required.
If you are interested in offering Plotagon Studio to your customers. Contact us and tell us about your organization and market. 
Plotagon is proud to help educate lifelong learners of all ages. Current professors, teachers, staff and students (13 years and older) at primary and secondary schools, colleges and universities are eligible.
Create your Plotagon Studio account using your school's email address so we can verify the school's domain name. The Academic Plan will be available when we verify that you email is issued by an academic organization.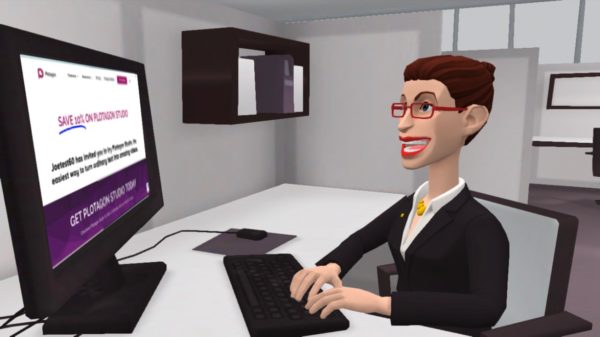 How Plotagon referral program works:
When you purchase a Plotagon Studio subscription, you will receive a unique URL that you can share with your friends and colleagues via email, SMS or social media.

Each new user who purchases a paid subscription using the unique coupon code associated with your account will receive a 10% discount.

Plotagon will add a credit to your Plotagon Studio account equal to one month of your subscription price. (Each user must maintain the paid subscription for a minimum of 14 days.) 

You can earn up to 12 free months at a time, so share your unique URL widely
Note: This offer may not be combined with any other promotion. Plotagon may change this offer at its sole discretion at any time. Other Terms and Conditions may apply
Get Plotagon Studio Today
Includes a 7-day free trial