Getting Started with Plotagon Studio
Please note that Plotagon Studio is a separate product from Plotagon Story, our mobile application. Each product uses a different login.
Download the Plotagon Studio application for Windows from our website.
Please see our technical requirements to ensure that your computer can run the application, and understand how much available hard drive space you will need.
Follow the steps in the installer, and then launch the application.
Create your account
The first step is to create your account. You must have a valid email address in order to register. (Even if you plan to use your Google or Microsoft login, you must first create a Plotagon account.)
1. Click the "Sign up" button.
2. Next, choose one of the following options to create your account:
Enter your name, email address, and a new password that you will remember. (If you ever forget this password, you can reset it on our password reset page.)

Create an account using your Google account information. You then can sign into Plotagon Studio using your Google or Gmail password.

Create an account using your Microsoft account information. You then can sign into Plotagon Studio using your Microsoft login.
Note: If you are a current student, faculty or staff member at an educational institution and want to qualify for an academic discount, be sure to register using your school email address. Learn more.
3. Plotagon will send you an email with a verification code. Normally, you will receive this message within seconds. (If not, check your spam filter.) Type the verification code into the Plotagon Studio application, and then you will be logged in automatically.
Welcome to Plotagon!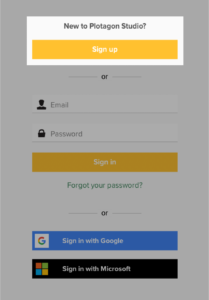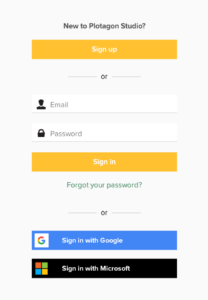 Subsequent logins
The next time you launch Plotagon Studio, simply enter your username and password (or choose the Google or Microsoft login option) to begin using the application.
Customize the appearance
Click the Settings button (the gear icon in the top right-hand corner) to select either a Light Mode or Dark Mode view, and to change the language of the Graphical User Interface.