We have a new version of Plotagon Studio today, v. 1.4.1 for Mac and Windows. In addition to the usual assortment of incredible new content from our Art team, this version has a few notable enhancements:
Extra! Extra!
Selected scenes now have extras, non-speaking background characters in selected scenes. Look for multiple character silhouettes on the red banner. You can turn these extras on or off within the Plot User Interface.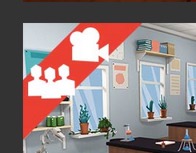 Also, you can now download new scenes and clothing as soon as we release them without having to wait for a new version of the application. That means more content, more often.
Color me
#FFC0CB
Now you can put your character or avatar on a custom background color of your choice in our Character Creator. Choose from several preset options (including plain white and a green screen), or type in a color hex code.
We also have redesigned the Settings Screen, which you can reach by clicking on the gear icon at the top-right corner of the application. Users will find a link there to manage their Acapela voices and download new ones that they have purchased.
If you already have a Plotagon Studio license, then this is a free upgrade. If you haven't yet tried it for yourself, then visit our Get Studio page to purchase a license and experience the Plotagon magic for yourself!
As always, please drop us a line to let us know what you think.
Best regards,
Plotagon Joe