Export your Plotagon video
Export your video
When you are ready to save your video, click the Render video button. That will give you the option to export with or without subtitles.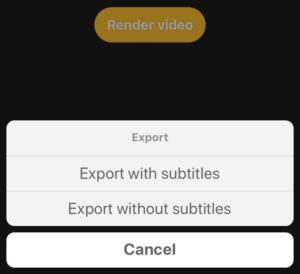 You can then export your Plotagon video as a 720p MP4 video file and save it to your camera roll or share it with other social media and sharing applications.
The amount of time needed to render a video depends on the length of the script, the complexity (especially if you add voice recordings and background music), and the speed of the processor on the device that you are using.
Tip: Restart the Plotagon Story app just before you render the video, especially if you have worked on your plot for a long time. This will ensure the app has enough memory to render the video properly.
Why should you use subtitles?
Including subtitles will make it easier for users with hearing impairments to understand what your characters are saying, and for people to understand your videos in a social media feed (where videos usually play without sound).
A note about rights & responsibilities
Plotagon is a video-making tool, and while you are free to write what you wish in your scripts, you also are responsible for the content. We certainly hope that you won't make videos with sexually explicit, profane or obscene language, or videos with hateful and racist content. You also cannot legally steal dialogue from famous movies, TV shows or any other copyrighted content.
You own the rights to your stories, but Plotagon owns the characters, environments, animations, music, sounds, etc. that come with the application.

You may share your videos freely on social media and on YouTube, but Plotagon Story does not include monetization rights. If you want to make money using Plotagon in your YouTube channel, then please see our Plotagon Studio product.
Please see our
Terms of Use
to learn more about your rights and responsibilities when using Plotagon.