Gamification, storytelling & scenario-based learning with Plotagon Studio
There is no better way to teach communication and real human interaction than through scenario-based learning combined with real-time, online quizzes. But why limit yourself to boring scripts, written texts, or static slides? Plotagon's friendly, non-threatening animated characters and easy User Interface mean that anyone can convert static online training into rich, multimedia experiences. By combining Plotagon animation with tools like Articulate Storyline or Adobe Captivate, you can upgrade your e-learning and training courses with gamification, storytelling and scenario-based learning.
See how e-learning, higher education, language, and business professionals use Plotagon to add new dimensions to their online programs.
Joe Schick
2019-05-15T17:44:48+00:00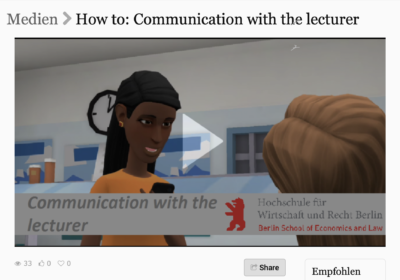 The Berlin School of Economics and Law has used Plotagon to create instructional videos to help their students make use of the university's IT resources.